We wanted to update you on our plans for reopening Darleys, following the Government's recent announcement about reopening restaurants and other hospitality venues from 4 July.
An exciting refurbishment
Since we took over the business in December, we have been planning a refurbishment. Our setting within this former mill building is stunning and full of character, but we felt that the interior had become a bit dated. So when we went into lockdown, it seemed like the ideal opportunity to bring these refurbishment plans forward.
We are currently at the start of this refurbishment process and intend to have it completed by mid-August, at which point we will be able to reopen with an exciting new look for you all! The new interior is going to be classy and elegant and will focus on the following:
Celebrating the historic character of the building
Updating the overall look and feel to be contemporary yet timeless
Altering the entrance lobby so there is a better arrival experience
Increasing the size and design of the bar
Creating a corridor to our toilets with a concealed cupboard for cloaks.
Here are some visuals of what it will look like: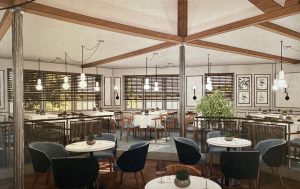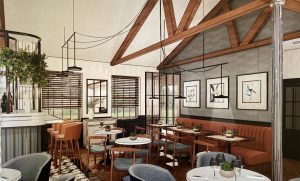 This means you will need to wait a little bit longer before you can visit us again, but trust us, it's going to be worth the wait!
Reopening safely
As things currently stand, we won't be able to operate the restaurant and bar in exactly the same way as we did before the pandemic. Clearly we will need to put in place some restrictions and operational changes to make sure we are 'COVID secure'.
We have been putting a lot of thought into this and are confident we can still offer a great dining experience for you, but once we have an exact date for reopening, we will be able to finalise our plans and make these public. The COVID-19 situation is constantly changing and we are aware that guidance is likely to be altered again before mid August, so look out for future blog posts about how we'll ensure our venue is safe for you to visit.
Thanks for your patience and support. We can't wait to welcome you all back in mid August and see what you think of our new look!
Contacting us at the moment
Our phone lines are temporarily down due to the construction work, so please contact us by email in the meantime: info@darleys.com.
While you're waiting…
If you're missing Darleys, why not try recreating some of our recipes at home? Here's how to make our:
You can also feast your eyes on our Instagram or LinkedIn pages, but your stomach will need to wait a bit longer for its feast. Sorry about that!